River Thames
Boris aide: Covid Memorial Wall created by 'left-wing activists'
A former advisor to Boris Johnson has criticised the Covid Memorial Wall on the South Bank, claiming it is the work of "left-wing activist groups" who installed the memorial without permission.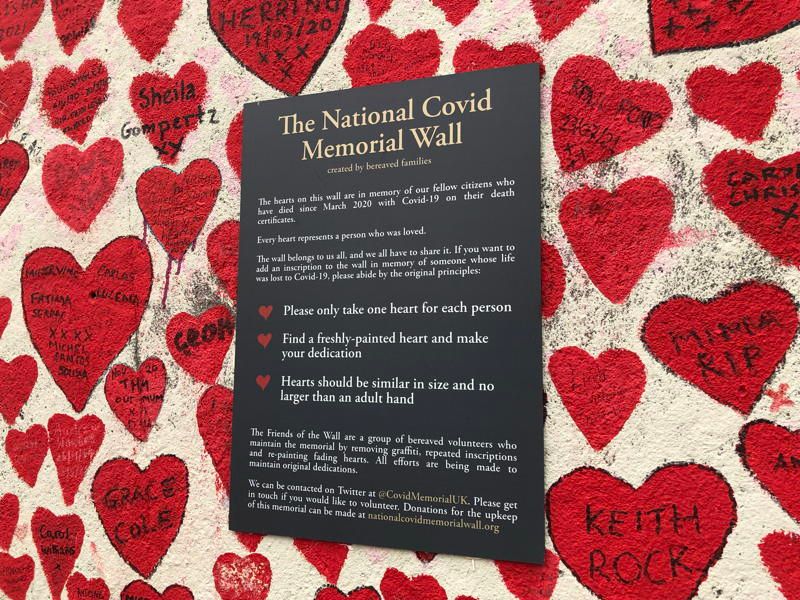 Former BBC journalist Andrew Gilligan – who was a special advisor to Boris Johnson in Downing Street – has written a report for think tank Policy Exchange titled Tarnished Jewel: the decline of the streets around Parliament.
He devotes a section of the report to the memorial to victims of Covid-19 that has been established on the riverside wall of St Thomas' Hospital on Albert Embankment, facing the Palace of Westminster.
Hundreds of hearts have been painted on the wall, each representing a life lost to Covid-19.
"It is important, moving, aesthetically attractive, and has comforted many of the bereaved," wrote Mr Gilligan.
"The fact remains, however, that – as its creators admit – this substantial public space was appropriated without anyone's permission. Nor, despite its self-proclamation as a 'national memorial,' was the nation or any national institution involved.
"The creators are two left-wing activist groups – Led by Donkeys, which specialises in billboards attacking Brexit and the Tories, and Covid-19 Bereaved Families for Justice, which is stridently hostile towards the government's performance during the pandemic.
"On the wall next to the hearts at the Westminster Bridge end are the prominent words, larger than almost any others, that the "gov[ernment] have failed." These are, of course, views held by many people, but are not necessarily representative of all the victims commemorated – or of the nation.
"Two months after the memorial was unveiled, partly due to the success of the covid vaccine programme, the Tories won the 2021 local elections with an 8 per cent swing. It is seldom right to mix political slogans and monuments to the dead.
"And however righteous this cause, it establishes a precedent for the seizure of public space which could be used by others. Might, for instance, a far-right group apply the same logic to put a politically-charged "national memorial" in Westminster to the victims of Islamist terror?
"We recommend that there should be a prominent national memorial in central London to the victims of covid – maybe even this one, on this site, though shorn of political slogans. But the decision on where it is and what it says should be for a nationally representative body, not partisan and self-appointed campaign groups."
In July 2021 Lambeth Council – which at the time included Labour, Green and Conservative members – unanimously passed a motion calling for the memorial wall to be made permanent.
Other backers of the memorial wall include Vauxhall MP Florence Eshalomi and Archbishop of Canterbury Justin Welby, who ministered as a chaplain at St Thomas' Hospital during the pandemic.
Covid-19 Bereaved Families for Justice did not respond to our request for comment on the Policy Exchange report.