History
Cecil Belfield Clarke: Newington Causeway plaque honours Blitz GP
A pioneering black gay doctor who served the Elephant & Castle community for 45 years - including during the Blitz - has been recognised with a blue plaque at London South Bank University.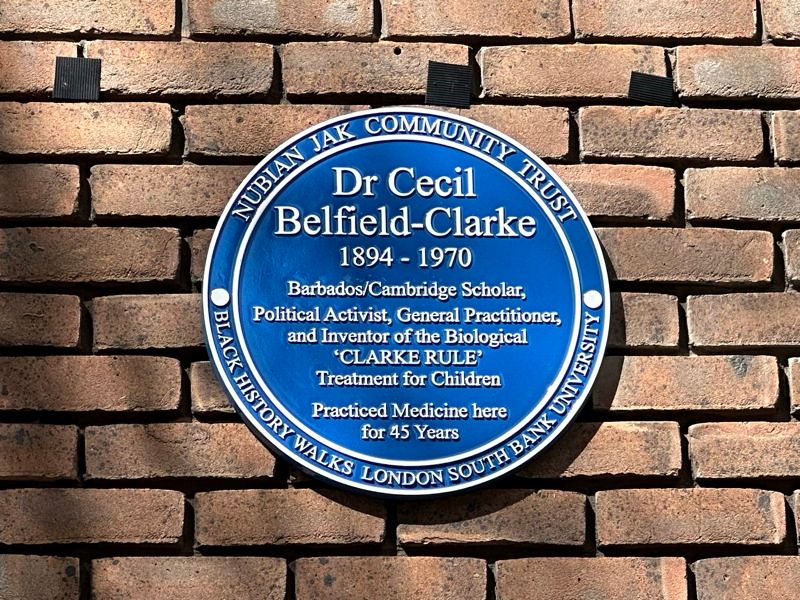 The plaque marking the site of Dr Cecil Belfield Clarke's surgery at the junction of Newington Causeway and Southwark Bridge Road was unveiled on Wednesday by the Bishop of Croydon and the High Commissioner of Barbados.
The plaque is on the outside wall of London South Bank University's Perry Library which now occupies the site of the surgery.

Cecil Belfield Clarke came to Britain from Barbados in September 1914 with a scholarship to study medicine at St Catharine's College Cambridge.
In 1920 he founded the GP surgery at 112 Newington Causeway from where he served the local community for 45 years until his retirement in 1965. The surgery was one of the few buildings left standing after the Blitz.
The doctor's name lives on through Clarke's Rule, a mathematical formula used to calculate the proper dosage of medicine for children.
In 1931 he was one of the founders of the League of Coloured Peoples, alongside Jamaican doctor Harold Moody and others who fought for racial equality in housing, healthcare, childcare and successfully challenged the colour bar in Britain's military.
The plaque is one of more than 80 memorials to notable black people erected around London by the Nubian Jak Community Trust. Dr Clarke's plaque has been sponsored by Tony Warner of Black History Walks.

Wednesday's ceremony was preceded by speeches from a number of guests including Dr Latifa Patel of the British Medical Association and Dr Colin Higgins of St Catharine's College Cambridge.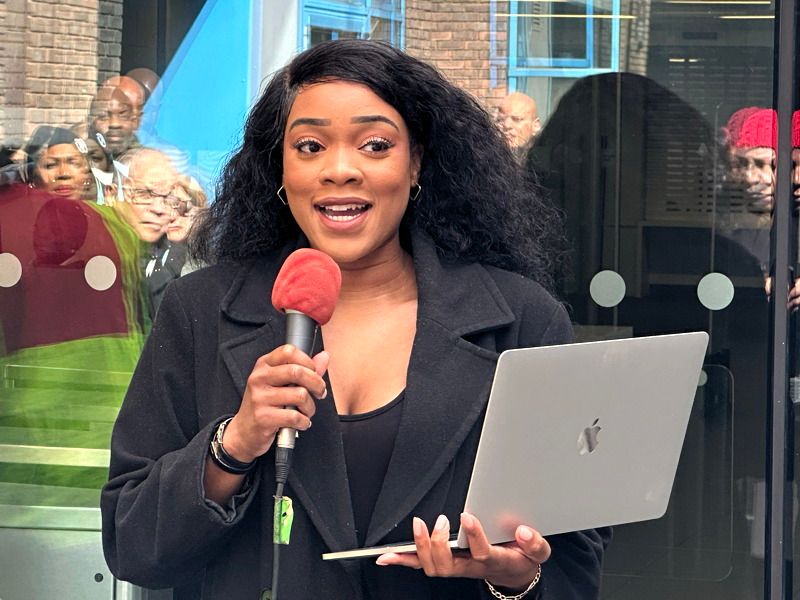 L'myah Sherae – who researched Dr Clarke's life while studying at St Catharine's College – shared some of her findings.
Kamran Abassi, editor-in-chief of the British Medical Journal, read out a letter that Dr Clarke had sent to the BMJ in 1962 and quoted from the obituary that appeared in the journal after his death in 1970.
In his speech local historian Stephen Bourne painted a picture of wartime Elephant & Castle, and explained how Dr Clarke had commuted daily – from the Barnet home he shared with his partner Edward Walter – to serve his Southwark patients.

Rachel Picton, dean of LSBU's School of Allied Health and Community Health, said: "Dr Cecil Belfield Clarke and his contribution to this community will now be suitably recognised and remembered – and his legacy will live on – at the site where he diagnosed, treated and cared for patients with the passion, expertise and commitment that we aim to instil in all our health and social care graduates.
"He is a great role model to learn from and a history to be proud of."
LSBU chancellor Sir Simon Hughes added: "We are one of the few universities in Britain where the majority of our students are from global majority communities, and we are so proud of that."
Bishop of Croydon Rt Revd Rosemarie Mallet – who was herself born in Barbados and taught at LSBU before her ordination – told the gathering that Clarke's story had been "invisibilised" and welcomed the efforts to raise awareness of his life and work.
She said she would urge the local primary and secondary schools associated with Southwark Cathedral to teach their pupils about Dr Clarke and his story.
His Excellency Milton Inniss, High Commissioner of Barbados to London, thanked all those who had "brought Dr Clarke's story into the light".