Waterloo
Royal Mail issues special stamps for Old Vic bicentenary
Royal Mail is to issue a set of eight special stamps to mark the bicentenary of The Old Vic.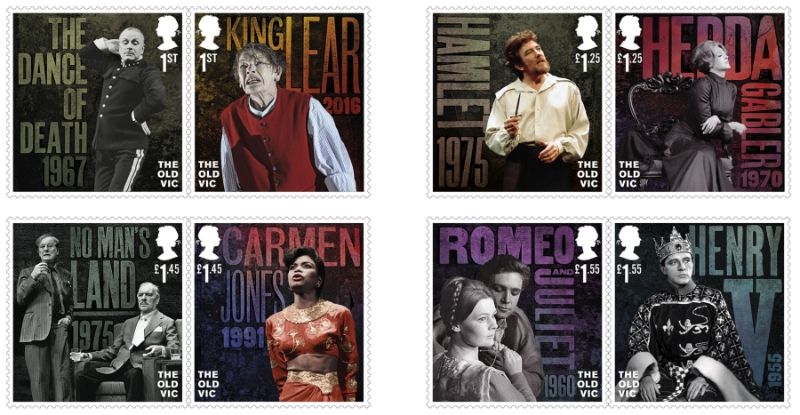 This stamp issue features photographs of some of the most celebrates performances on The Old Vic's stage since the 1950s:
• Richard Burton – Henry V, 1955
• Judi Dench and John Stride – Romeo and Juliet, 1960
• Laurence Olivier – The Dance of Death, 1967
• Maggie Smith – Hedda Gabler, 1970
• Ralph Richardson and John Gielgud – No Man's Land, 1975
• Albert Finney – Hamlet, 1975
• Sharon Benson – Carmen Jones, 1991
• Glenda Jackson – King Lear, 2016
"As we celebrate a long history of inspiring creativity in this iconic building, and look to a bright future of uplifting, adventurous and accessible theatre-making, we are delighted to be collaborating with Royal Mail on this special stamp edition to mark The Old Vic's 200th birthday," said artistic director Matthew Warchus.
Royal Mail's Philip Parker said: "The Old Vic is remarkable. So many of our finest actors have trodden its boards and it has been instrumental in shaping UK theatre. Our striking new stamps celebrate this with great actors in unforgettable roles at The Old Vic."
The stamps and souvenir products can be pre-ordered from https://shop.royalmail.com and available on general sale from 7,000 Post Offices nationwide from Thursday 30 August.
• Lilian Baylis's distinctive horn-rimmed glasses are among the exhibits at an Old Vic bicentenary exhibition at the University of Bristol's Theatre Collection.