Planning & Development
Artist's house in a skip could face council enforcement action
An artist who has taken up residence in a skip on a patch of waste ground in Mandela Way could face enforcement action from Southwark Council for failing to obtain planning permission.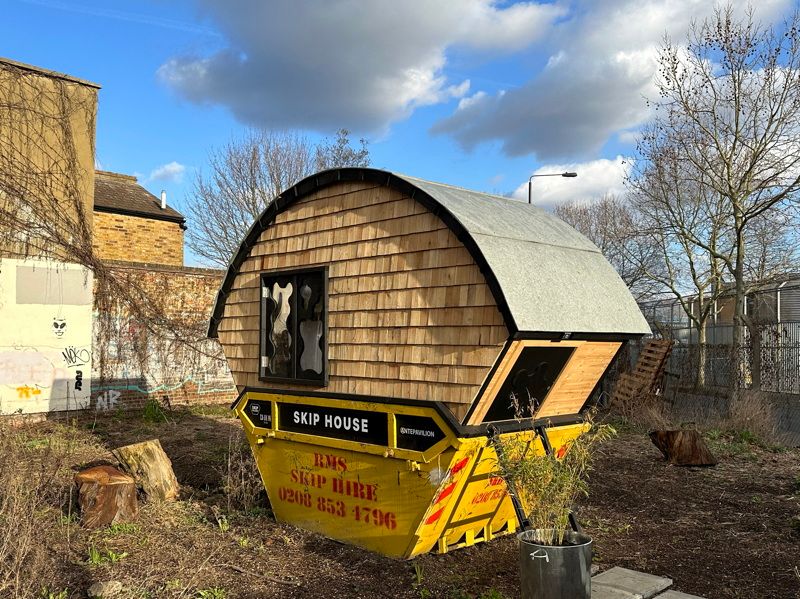 Harrison Marshall moved into the Skip House – a £4,000 wooden structure built within a metal skip – a few weeks ago and has said he intends to stay for a year.
Mr Marshall is documenting his residency on Instagram @theskiphouse and TikTok @the.skiphouse
The Skip House is linked to the Skip Gallery, a wider public art initiative using skips in creative ways.
The site at the corner of Mandela Way and Page's Walk was formerly occupied by a Soviet T-34 tank which became a well-known landmark.
Now Southwark Council has opened a planning enforcement case (23/EN/0018) regarding "use of a skip as a temporary home" without permission for change of use of the land.
There's no indication at this stage as to what prompted the council to open the investigation. Nor is it certain that the authority will opt to take formal enforcement action.
The site was already on the radar of Southwark planning enforcement officers who have been pursuing the landowner Russell Gray in connection with the felling of a eucalyptus tree on the site – which is located in a conservation area – last year.
Mr Gray's appeal against the council's decision to issue a tree replacement notice is currently being considered by a planning inspector