Churches
St George's Cathedral: plans to add height to unfinished tower
The tower of Southwark's Roman Catholic cathedral - famously unfinished for the last 175 years - could gain a few extra feet in height under plans to make it safer for maintenance workers to carry out roof repairs.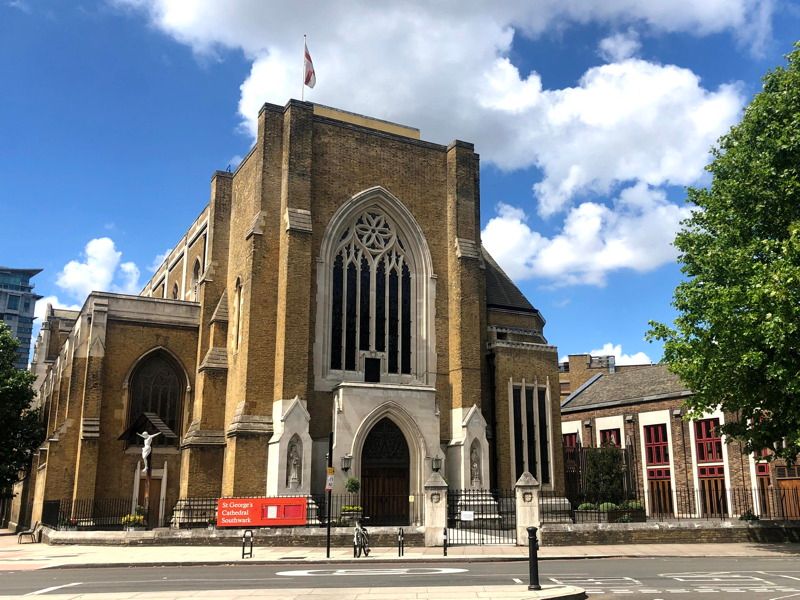 St George's Cathedral has applied to the Southern Historic Churches Committee – which adjudicates on proposals for alterations to listed Roman Catholic churches in southern England – for a range of rooftop works.
The cathedral was built in the 1840s to a design by Augustus Welby Pugin, but a lack of funds meant the planned spire was never added.
Pugin's design for the Southwark spire was instead used for Tolbooth Kirk in Edinburgh.
Bombed in World War II, the post-war rebuild of St George's Cathedral by architect Romilly Craze also left the tower unfinished for financial reasons.
But now the cathedral wants to add extra parapets to many of its rooftops, driven by its insurers' safety stipulations for working at height.
The most prominent change would be to add another six to eight courses of brickwork to the stump of the cathedral tower.
Southwark Council has raised concerns about the cathedral's plans, which would still need planning permission from the local authority even if a faculty for the works is granted through the church's own processes.
The council's design and conservation officer Eleanor Heagney wrote: "The south tower is a highly prominent, distinctive and characteristic feature of Pugin's cathedral and forms the principal elevation.
"The tower was never finished due to funding difficulties during the initial building period, and again during the post-war reconstruction of the cathedral.
"The 'unfinished' appearance of the square tower, which only just exceeds the nave in height and terminates rather abruptly, is very much a part of the cathedral's narrative and serves as a reminder of the building's history through the world wars."
She added: "Objection is raised to the granting of faculty for modern additions at roof level of the tower which would lessen the prominent unfinished form of the existing tower, as well as at mid-level on the adjacent baptistery."
The council's response continues: "Strong objections are raised to the granting of faculty for the proposed decoration [to] the tower by terminating the buttresses with gablets.
"The addition of decorations to mimic a sense of 'completeness' to the tower would seek to undermine a key element of the cathedral's historic narrative."
However, the charity Historic Buildings & Places (formerly the Ancient Monuments Society) was more favourable about the tower proposal.
Caseworker Matthew Saunders wrote: "It might be argued that the work at the top of the tower actually ameliorates the present abruptness and the feel of truncation where the steeple is so obviously missing. The stainless steel guarding almost doubles as the ghost of a corona."
A decision is due to be made next week when the Southern Historic Churches Committee meets at Douai Abbey in Berkshire.
Details of the proposals can be found at www.catholic-historic-churches.org.uk/applications/southern-1350