Planning & Development
Elephant & Castle: 15-storey hotel approved in St George's Road
Plans to build a 15-storey 'lifestyle hotel' near the London College of Communication have been approved by Southwark's planning committee.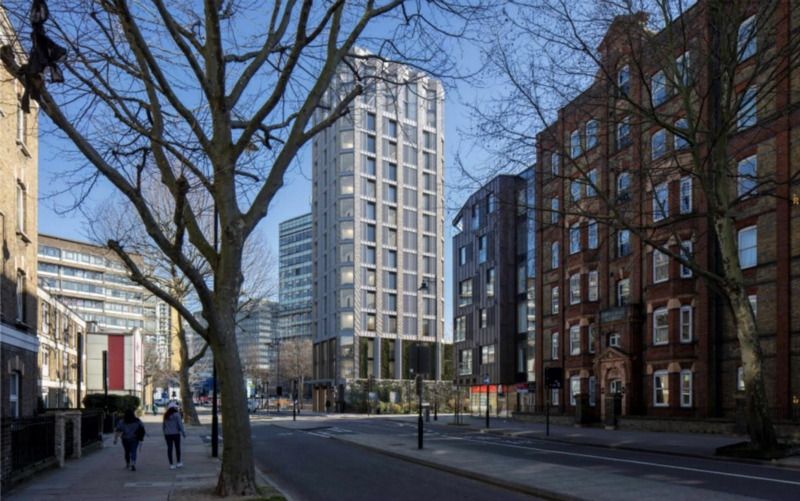 Councillors considered the scheme at a meeting of Southwark Council's planning committee on Wednesday evening.
The developer is Guernsey-registered Create REIT Limited and the scheme has been designed by Latitude Architects.
The hotel and office scheme would replace the existing three-storey building at the junction of St George's Road and Oswin Street which is currently used by the BOLD Theatre charity as a performing arts centre.
The 89-bedroom hotel is described as a "lifestyle hotel" but no operator has yet been confirmed.
Introducing the application, planning officer Patrick Cronin noted that the council had included the existing buildings on the draft local list of buildings of architectural and historic merit, but that this did not preclude its demolition.
The committee heard from Mark Havelock-Allan, chair of the West Square Residents' Association, who spoke on behalf of local objectors.
He said the proposed tower would be "out of all proportion" to the nearby homes in Elliot's Row and Hayles Street and would "dominate the skyline" from West Square.
Local resident Lynda Waterhouse said she was concerned about the traffic implications, with servicing vehicles using local side streets as they wouldn't be allowed to stop on the St George's Road red route.
John Hull from Create told the committee that the company had longstanding links to Southwark. "We have a strong track record of working with our tenants and neighbours," he said.
"The vision for 21 St George's Road reflects our long term commitment to Southwark and is forged by previous experience of hotel development and management at Bear Gardens which includes educational and rehearsal space for the Globe."
Lead architect Michael Griffiths said: "From the outset, we felt that the site was an ideal location for a high quality hotel that would sit in the heart of the town centre and replace a tired, highly unsustainable and inaccessible building that has poor relationships to its surroundings."
Mr Griffiths argued that the proposed hotel should be assessed in the context of the cluster of taller buildings around the Elephant & Castle rather than measured against the lower-rise residential buildings off St George's Road, with the Elliot's Row Pocket Park forming a "punctuation space" between the two.
St George's ward councillors Graham Neale and Maria Linforth-Hall addressed the committee to object to the scheme.
"The scale and massing for the site are too large," said Cllr Linforth Hall.
Cllr Neale added: "We're concerned that the hotel will create noise and antisocial behaviour with deliveries and disposal of rubbish seven days a week."
He continued: "The increase in traffic during construction and post-construction will saturate the nearby streets, endangering cyclists and residents and passengers waiting at nearby bus stops."
Councillors resolved to approve the planning application, with seven votes in favour and one abstention.