Transport
TfL sets 2025 start date for Southwark Tube Station office block
London SE1 website team Transport for London says it plans to start building a new office block above Southwark Underground Station in 2025 having selected its preferred joint venture partner for the scheme.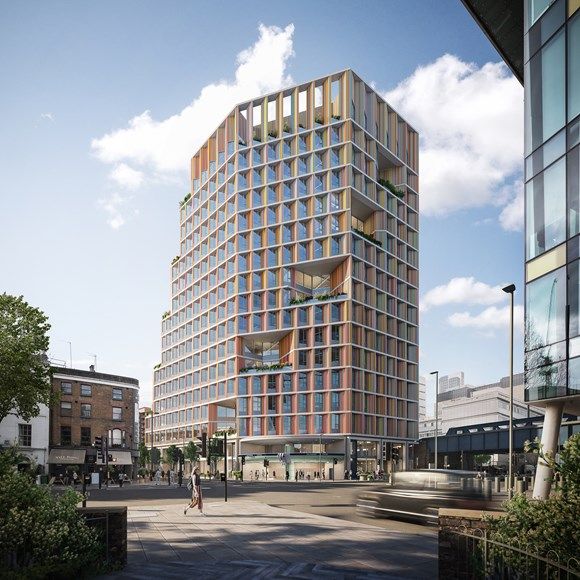 Plans for the 17-storey office building at the corner of Blackfriars Road and The Cut were approved by Southwark councillors two years ago.
This week TfL said it had picked Helical as its joint venture partner for sites at Bank, Paddington and Southwark.
Southwark Station, which opened as part of the Jubilee line extension in 1999, had always been designed with future development in mind, but with a 2025 start date now on the cards it will have taken more than a quarter of a century for above-ground development to begin.
TfL claims that the Southwark scheme " is set to be one of the greenest and healthiest large-scale commercial buildings in the UK".
Scott Anderson, Head of Property Development at TTL Properties Ltd, said: "We're delighted to have selected Helical as our preferred investment partner as we take forward our commercial office portfolio and create best in class commercial office workspaces that reflects our confidence in London and will positively impact the capital and its green recovery.
"This new joint venture complements our wider commercial development programme, which will see us deliver thousands of new and affordable homes in London, develop our estate to support small businesses and train the next generation entering the construction industry. This partnership will also help deliver operational benefits and generate vital additional revenue, which can be reinvested into the transport network and help fund a safe, green and reliable public transport network."
Matthew Bonning-Snook, Property Director at Helical, added: "This is a hugely exciting opportunity for us to partner with one of London's largest landowners to deliver three superbly located schemes, with an ambition to bring forward additional schemes within this long-term joint venture. The intention is to deliver c. 600,000 sq ft of much needed sustainable, best-in-class office space incorporating smart technology, high quality amenities with a focus on occupier wellbeing and adopting modern methods of construction in their delivery."